Bag Policy
For all events at Soldier Field, the NFL Clear Bag Policy is in place. Approved bags are limited to:
Bags that are clear plastic, vinyl or PVC and do not exceed 12" x 6" x 12" or
30.5 x 15.25 x 30.5 cm. This includes clear backpacks, clear fanny packs and
clear cinch bags that fit within the permissible dimensions.
No buckles, grommets/hardware or décor can be concealing any part of the bag.
One-gallon clear plastic freezer bag.Logo can only be on one side of the bag.
Small, non-clear bags that do not exceed 4.5" x 6.5" in size, with or without
a handle or strap can be taken into the stadium with a clear plastic bag.
All other bags that do not meet the bag guidelines above will be prohibited from entering the stadium.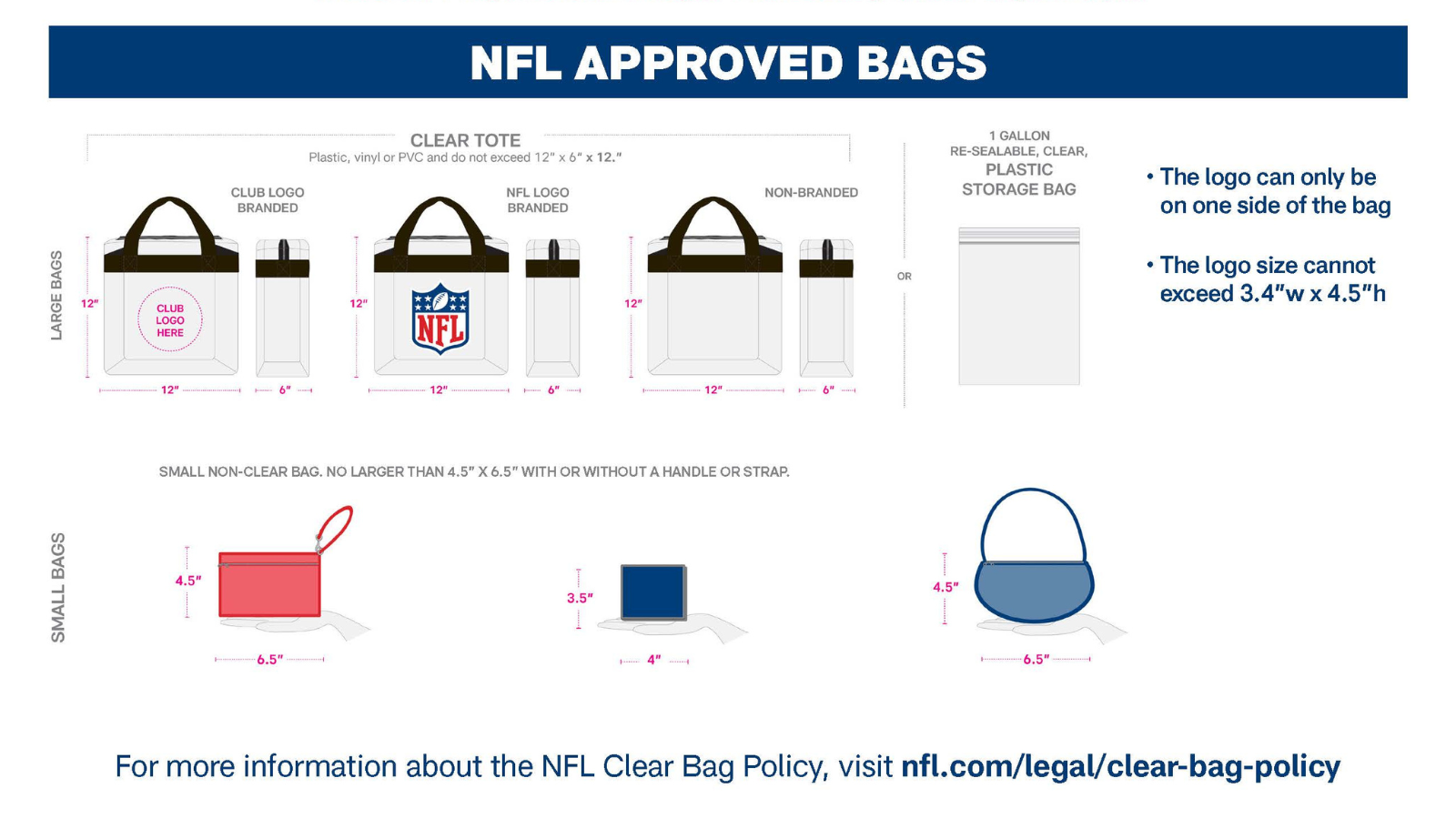 Prohibited items include, but are not limited to: coolers* (unless medically necessary), briefcases, diaper bags* (unless medically necessary), non-approved seat cushions* (unless medically necessary), luggage of any kind, computer bags and any non-clear bag larger than the permissible size (4.5" x 6.5")
*For questions about exceptions for medical reasons, please see below.
*Non-approved seat cushions include large traditional seat cushions that have pockets, zippers, compartments, or covers. Fans should ask for Stadium Security to have their seat cushion examined.
Medical Bags
Medical Bags or kits are acceptable and will be searched at the gate.
Diaper Bags
Diapers must be carried in a clear bag. Each member of a family, including children, would be allowed to carry an approved clear bag and a clutch purse into the stadium.